Srebrenica: Russia vetoes UN resolution to recognise massacre as genocide
Comments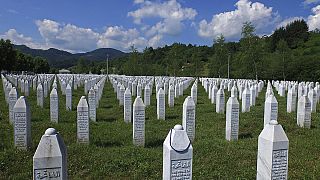 Russia has wielded its veto in the UN Security Council to block a resolution that would recognise the 1995 Srebrenica massacre as genocide.
It is clear that genocide took place in a systematic way
As UN officials recall 'horrors,' Security Council fails to condemn #Srebrenica as genocide http://t.co/2HAoJAb9HQpic.twitter.com/qJGZSUfxzs

— UN News Centre (@UN_News_Centre) 8 Juillet 2015
Drafted by the UK to mark the 20th anniversary of the Bosnian War atrocity, Russia's ambassador to the UN Vitaly Churkin dismissed it as "counter-productive and likely to cause greater tension in the region."
Four other members of the Council abstained while the rest voted in favour. Serbia does not have a seat on the Council and asked ally Moscow for support during the meeting.
In Srebrenica, a peace march is retracing the path taken by thousands of Muslim men and boys who fled the eastern Bosnian town to escape the advancing Bosnian Serb forces.
Thousands march to remember #Srebrenica massacre victims http://t.co/x5W23vHtPrpic.twitter.com/WDmi3ngX4D

— The Straits Times (@STcom) 8 Juillet 2015
More than 8000 fathers, husbands, brothers and sons were killed.
We join Bosnia and Herzegovina in honouring victims of #Srebrenica#genocide. Moving testimony by Adisada Dudic #R2Ppic.twitter.com/3h6ofy6Lsx

— Luxembourg

ONU

(@LuxembourgUN) 1 Juillet 2015
Adisada Dudic survived the massacre as a six-year-old: "It is clear that genocide took place in a systematic way. It was a systematic murder of thousands upon thousands of people and deportation of a certain ethnic group out of a particular area, that clearly just fits into the definition of genocide, and if we cannot stand for that than I honestly do not understand what is the point of the United Nations and these kinds of organisations really".
Saturday is the 20th anniversary of Europe's worst mass killing since the Holocaust.
Thousands are expected at a ceremony in Srebrenica. The recently discovered remains of 136 victims will be interred.
Twenty years may have passed, but signs of Srebrenica's tormented past are still visible all around.