Europe marks 20 years since Srebrenica massacre
Comments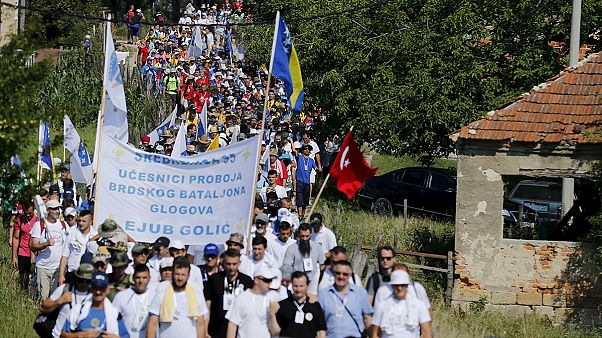 Thousands of marchers in Bosnia and Herzegovina have joined survivors of Europe's worst mass killing since the Holocaust: the slaughter of some 8,000 Muslim boys and men by Bosnian Serb forces during five days in 1995.
Survivors have reenacted their escape through the hills of eastern Bosnia.
"I want to send a message to all countries to condemn genocide, regardless of where it happened and which nation was the victim, so that it doesn't keep happening," said survivor Resid Dervisevic.
"It's not just about Srebrenica," said Charles Wilcox from the USA, "it's about how mankind treats one another. It's a world-wide event, this happens to be one of the events where genocide has taken place. We need to keep reminding ourselves of these terrible tragedies so that we can take appropriate action to make sure they don't happen in the future."
Two decades on, more than 1,000 victims have yet to be found.
Human remains are still being found scattered around the area's farmland and forests.
Tens of thousands of people are expected to attend the commemoration on Saturday (July 11) marking 20 years since the massacre. The recently identified remains of 136 victims will be interred beneath white marble headstones.
#SrebrenicaMassacre, After 20 Years, Still Casts a Long Shadow in #Bosniahttp://t.co/lRPDjiIOompic.twitter.com/9KhtHpltIb

— The Times Times (@Timesolizer) July 8, 2015