15 years on: UN takes stock of Millenium Development Goals
Comments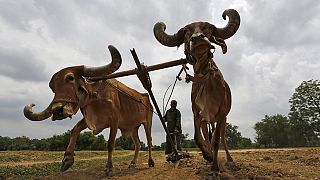 'The poor are always with us' as the saying goes and the UN 's report on the progress of its Millennium Development Goals proves it.
UN Millennium Goals halve poverty
About 800 million people still live in dire poverty and suffer from hunger. However, since the UN's anti-poverty push began that number is half of what it used to be.
The number of people living in extreme poverty on less than the equivalent of 1.13 euros a day was 1.9 billion in 1990.
The UN set out its Millennium Declaration in 2000.
UN Secretary-General Ban Ki-moon said:
"Progress has not reached everyone. Too many people have been left behind (…). Too many women and children continue to die during pregnancy or from childbirth-related complications. And too many people lack adequate sanitation facilities, especially in rural areas."
There have been other reductions – the number of new HIV infections has fallen by 40 percent, deaths from Malaria have halved and so too has the number of children dying before their fifth birthday.
But conflicts, which in 2014 uprooted almost 60 million people in countries such as Syria, Iraq, Central African Republic, Nigeria and Pakistan, remain the biggest threat to human development, and fragile and conflict-affected states have the highest poverty rates, according the the UN report.
In the Middle East there has been a resurgence of poverty after years of progress and poverty rates are expected to increase to 2.6 percent from 1.5 percent between 2011 and 2015.
World leaders are due to adopt a set of new development objectives – known as the Sustainable Development Goals at a UN summit in September.