Tourists gored by bulls during San Fermin 'bull run'
Comments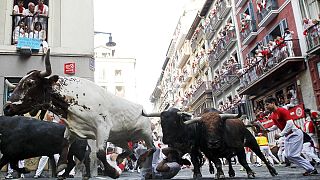 A British man and two Americans have been gored by bulls as thousands of people ran through the streets alongside the animals on the first bull-run of Pamplona's San Fermin festival.
None of the injuries were thought to be life threatening.
There were no immediate details on their identities.
The run sees people dashing with six bulls along a narrow 850-metre course from a holding pen to the city bull ring.
It lasted just over two minutes.
The nine-day fiesta was made world famous in Ernest Hemingway's 1926 novel "The Sun Also Rises" and attracts thousands of foreign tourists.