Feeling the heat? Share it! As the heatwave goes on for a second week in Central Europe with record breaking temperatures in Spain, but also in countries less familiar with the scorching weather like France or even Germany, social media users are sharing their stories of despair, cooling off tips, challenges or ways to benefit from the sunshine.
While it won't help them get cooler, sharing their heat fatigue helps them to know they're not suffering alone…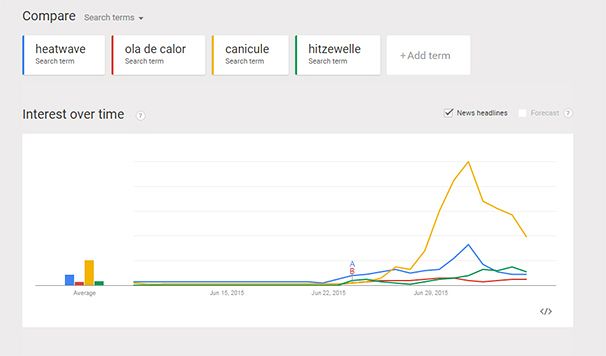 Google Trends
Here are some examples of the refreshing creativity.
Chusina5</a> <a href="https://twitter.com/capitantxino">capitantxinolady33_pink</a> <a href="https://twitter.com/yolifer35">yolifer35 egunon banda, ojito con ir a la playa hoy.#OlaDeCalorpic.twitter.com/wAGjMtB13R

— New Zealand (@jovenmaori) June 3, 2015
#Summer2015: Our recommendation of the day! pic.twitter.com/qZjkiQH70s#HeatWave#Germany#servicetweet#ventilator#fan Gif via Schattenwolf_</a></p>&mdash; GermanForeignOffice (GermanyDiplo) 4 Juillet 2015
Je veux une couverture de neige pour ce soir svp #Canicule2015#heatwavepic.twitter.com/4Az7j7SfvQ

— Brain De Geek (@braindegeek) 5 Juillet 2015
#Canicule2015 quand je reviens en France et que je vois la canicule pic.twitter.com/9IRgZ5GGDh

— Julien (@Jln_X3) 7 Juillet 2015
Link hat es gut… #Hitzewellepic.twitter.com/lNesiZb2SB

—

GIGA

GAMES

(@Follow_the_G) 4 Juillet 2015
Deutschland stöhnt unter #Hitzewelle: Eure Tipps sind gefragt! #Wetter#Hitze ^dm pic.twitter.com/9AunpQyUF8

— wetteronline.de (@WetterOnline) 19 Juillet 2014
Und alle so. Yeah. #Hitzewellepic.twitter.com/vv7dDzsLXw

— M.W. (@schnumbi) 5 Juillet 2015
Quand c'est la canicule on a tous nos astuces… #Canicule2015pic.twitter.com/W8yFRcV4SH

— Maughan (@justmaughan) 1 Juillet 2015
Quelle superbe vue depuis la fenêtre de mon bureau ! #Canicule2015pic.twitter.com/AteKCsgf37

— AlabhamaMan (@AlabhamaMan) 1 Juillet 2015
The #heatwave brought some unexpected guests to a pool in Frankfurt, Germany! Jo pic.twitter.com/CrRlH5KPXM

—

BBC

Weather (@bbcweather) julio 6, 2015
The #heatwave in Devon today is of the exceedingly wet variety. #c4newspic.twitter.com/hlLU5U75WT

— Marcus Edwards (@c4marcus) julio 2, 2015
Quin caloret que fa! #oladecalor#mederritocomounpolitopic.twitter.com/sRlsckuk3L

— susana masague (@susanamasague) 5 Juillet 2015
¿Que tal ayer por Ourense? #oladecalor#asadospic.twitter.com/l6eZw9Gj6n

— Patricia (@patrilv) 30 Juin 2015
meteofrance</a> 40 degrés... je vous prépare un <a href="https://twitter.com/hashtag/gla%C3%A7on?src=hash">#glaçon</a> si vous le souhaitez. &#10;<a href="https://twitter.com/hashtag/LaurentHou?src=hash">#LaurentHou</a> <a href="https://twitter.com/hashtag/chaleur?src=hash">#chaleur</a> <a href="https://twitter.com/hashtag/canicule?src=hash">#canicule</a> <a href="https://twitter.com/hashtag/MOF?src=hash">#MOF</a> <a href="http://t.co/PLLrOeNnPJ">pic.twitter.com/PLLrOeNnPJ</a></p>&mdash; Gérard Taurin (Gerardtaurin) July 1, 2015