Greece: voters admit to divided opinions
Comments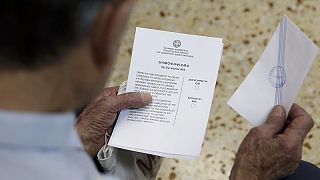 Greece has been divided by the Yes/No question posed by its referendum.
Polls suggest neither side had a clear lead in the run-up to the opening of polling stations this morning.
Reactions outside polling stations reflected the national division. For some, the entire issue is not clear enough: "I think the government's proposal and the commission's proposal are similar. If people had the chance to look at the details, they would see that there are no real differences." said one woman.
There are those who think it is a heads-or-tails decision. "If "no" wins, people will have shown that there is an alternative offer to European bureaucracy. They promoted an agenda which turned out to be unsuitable." said one man. Others think the vote will bring the country no further forward: "The government has placed us in great danger with this referendum. I'm not sure there will be a clear result, so who knows what will happen tomorrow?" asked another.
Euronews correspondent in Athens Konstantinos Tsellos says voters are being asked to decide under stifling economic conditions. "It is clear to everyone that the outcome of the referendum, whether yes or no, may prove decisive for the country's future and maybe for the future of Europe as well."