Greece: Alexis Tsipras among the first to vote
Comments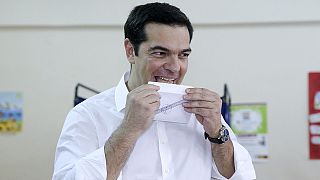 There was a commotion as Alexis Tsipras arrived to cast his vote in the Greek referendum.
Crowds gathered at the Athens polling station to witness the Greek Prime Minister posting his ballot.
Polls suggest Greece remains deeply divided over whether to accept the conditions attached to the international bailout funds needed to avoid default and a banking collapse.
The stakes are high. The government has urged voters to vote "no", saying this is not a referendum on Europe. But some fear this could lead to Greece being ejected from the eurozone.
Greece's current bailout programme with the European Commission, International Monetary Fund and the European Central Bank ran out on last Tuesday.
Banks have been shut all week. Strict limits have been imposed on cash withdrawals.