Greece: polls open in knife-edge referendum
Comments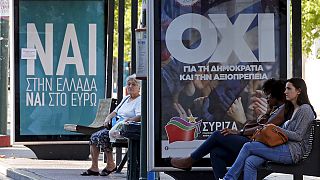 On a quiet Saturday morning in Athens, street cleaners appear to represent the calm between two storms.
A night earlier, the streets of the Greek capital were abuzz with tens of thousands of people, all keen to to voice their opinion on the upcoming referendum.
On Sunday, Greece goes to the polls in a vote which could determine its future in Europe.
In a potentially game-changing referendum, voters will be asked to decide whether or not to accept bailout measures imposed by Greece's international creditors. It's a vote some see as a decision on the country's future in Europe.
Greece's bank association says #Greek banks have liquidity until Monday, after that it depends on the #ECB. pic.twitter.com/UnCGRBj8xp

— euronews (@euronews) July 3, 2015
The 'No' camp
Prime Minister Alexis Tsipras has urged the Greek people to vote 'No' to the terms.
Greece PM Tsipras says referendum is not about country's membership of the Euro and urges voters to stay calm. pic.twitter.com/scrFPD9uEG

— euronews (@euronews) July 3, 2015
On Friday night in central Athens' Syntagma Square, some 50,000 people gathered to back the leader, despite warnings from Brussels that Greece would be "dramatically weakened" by a 'No' vote.
This is what the No rally in Athens looks like. Whole square packed. #Greececrisishttps://t.co/U0lishzNWs

— Ros Atkins (@BBCRosAtkins) July 3, 2015
The 'Yes' camp
It seems Greece is deeply divided over the referendum.
An opposing rally near the ancient Panathenaic Stadium attracted 20,000 supporters, including the mayor of Athens and television celebrities.
#YES DEMO reporting @NicoleDrouga#Greferendun@euronewsgr@euronewspic.twitter.com/pcfYwN1hgu

— Yannis Karagiorgas (@IKaragiorgas) July 3, 2015
Opinion polls suggest the 'Yes' camp is marginally in the lead ahead of Sunday's (July 5) crunch vote.
#Nai#YesGreece rallyin #Athens#Grefenderumpic.twitter.com/fe7ix7pyNi

— Oliver Varney (@OliverVarney) July 3, 2015