Tsipras tells 'no' voters to turn against those who 'terrorise you'
Comments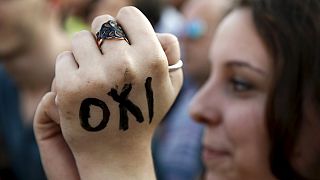 Athens' Syntagma Square was packed full of 'no' supporters on Friday evening ahead of Sunday's crunch referendum, meant to decide Greece's future.
Earlier in the day, Brussels warned that the Greek position would be "dramatically weakened" by a 'no' vote.
But later as patriotic songs blared out, Prime Minister Alexis Tsipras told the 50,000 strong crowd to turn their backs of those who "terrorise you daily".
"We put our lives in our own hands, we give a voice to the people… Greece is a country with pride, we have a future," he said.
Opinion polls suggest Greeks may be wavering. A small 'no' lead has turned into a slight edge for the 'yes' camp, although it's still within the margin of error.
One 'no' supporter in the crowd said: "Our lenders, Merkel, Dijsselbloem and Juncker point their fingers at us and won't accept that they've made a huge mistake regarding Greece. They don't accept that they have sentenced our people to austerity."
With posters proudly declaring OXI – Greek for 'no' -one speaker proclaimed that voters say it in German too, just to make it crystal clear.
Our reporter Apostolos Staikos, at Syntagma Square told us: "The prime minister insists a 'no' on Sunday doesn't mean no to the Euro or no to Europe. But Alexis Tsipras has asked Greeks to think about the future of the country when they come to vote and promised that new negotiations would start on Monday."