Two explosions hit Colombian capital
Comments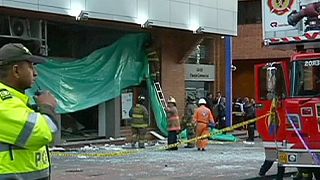 Double explosions in Colombia's capital Bogota have wounded eight people.
The first blast took place in the financial district while the second hit an industrial area.
The devices are believed to be homemade and come amid tense peace talks with FARC rebels to end five decades of conflict.
There is no evidence linking FARC to the attacks.
President Juan Manuel Santos cut short a regional
trade conference in Peru to return to be briefed on the incident.