Thousands gather for rival rallies in Greek capital
Comments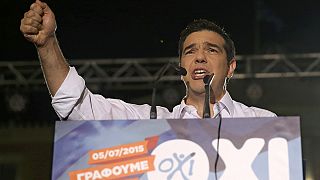 Thousands of people have gathered in the Greek capital in a massive show of solidarity ahead of Sunday's bailout referendum.
This is the final day of campaigning and if the number of anti-austerity banners and flags over Syntagma Square was anything to go by, then the "no" vote could be overwhelming.
Many banners declared simply "No". Others said, "Our lives do not belong to the lenders" and "Don't back down."
Large numbers, however, also turned out for rival demonstrations calling for a yes vote.
Greek Prime Minister Alexis Tsipras called the rally a celebration and not a protest. He described it as a celebration of pride, democracy and a choice to "live in dignity in Europe."
Some of Greece's European partners have said a no vote could see the country exit the 19-nation euro zone, with unforeseeable consequences for Athens.
But Tsipras stressed that Greek people should not feel terrorised by those who believe a rejection of the creditors terms will result in the country's financial oblivion.