Thousands of jobs face axe as cash shortage threatens Greek traders
Comments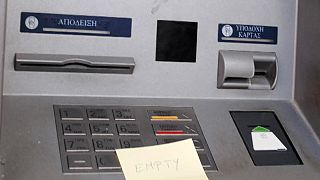 Capital controls on Greece's banking sector are starting to squeeze business in more ways than one.
There is now a dramatic shortage of cash on the streets and shopkeepers say average sales are down by up to 90 percent.
Ioannis Chatzitheodosiou, President of Athens Chamber of Tradesmen told euronews that a typical business with ten employees for the past week has had no revenue.
"How does it handle it? There are three ways: fire staff, gives forced days off from the summer holidays, or stop paying people," said Chatzitheodosiou.
Greece is now trapped in a vicious cycle. Manufacturers need cash to make everyday goods like pitta bread, but their produce risks being dumped if there's no money to deliver it.
"All the market wants cash, everybody wants liquidity to deliver goods, and we have moved that to our clients. We asked to be paid off (in cash) to give goods, otherwise we cannot deliver," said Marios Kaloidas, chief executive officer of Elviart.
Elviart is Greece's biggest pitta producer with a history going back more than 150 years. But the firm now faces closure as it has run out of cash.
Our reporter Symela Touchtidou said: "We find ourselves in uncharted territory" say the Greek business people that have never had to deal with such circumstances before. And they warn that if banks stay closed next week, there will be a chain of consequences with employees the unfortunate victims."