New Ebola cases in Liberia raise fears of fresh outbreak
Comments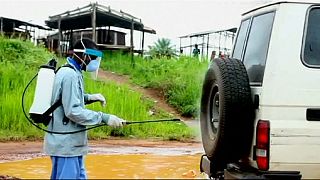 New cases of Ebola have been detected in Liberia, nearly two months after the West African country was declared free of the virus.
The authorities are monitoring at least 100 people thought to have been in contact with a 17-year-old boy, Abraham Memaigar, who died on Sunday in Margibi County, about 50 kilometres east of the capital Monrovia. He had originally been misdiagnosed with malaria.
Health officials are quoted as saying two more cases were identified on Wednesday, raising fears that hidden pockets of the virus may remain.
In the village of Nedowein, the dead teenager's home has been placed under quarantine and health officials wearing boots and rubber gloves went house-to-house confining people to their homes.
A health authority spokesman in Margibi County, Cestus Tarpeh, told the AFP news agency that the two new cases had been in contact with the boy.
Dr Moses Massaquoi, case management team leader for Liberia's Ebola task force, said that the people under surveillance included 14 health workers who have placed themselves in quarantine.
Investigations are underway into the cause of the latest cases and the authorities say more are likely.
Local residents said those showing symptoms of the virus had recently eaten a dog, a practice common in Liberia. Inquiries are also trying to establish whether the fresh outbreak came from a neighbouring country.
"I think our people know we just have to come back to what we were doing before. We were doing hand washing, we were very careful, no hand shaking. Now we have to be more careful than ever before," said William Cooper, a district representative.
The new cases come amid anger among health workers claiming they are owed hazard benefits unpaid since Liberia was declared Ebola-free on May 9.
Some stormed the health ministry in Monrovia on Wednesday.
Liberia helped control the spread of the virus with the help of a US military mission, which ended in February, and millions of euros in aid.
Ebola is spread through bodily fluids and is most contagious in the late stages when victims can suffer bleeding, vomiting and diarrhoea.
Since last year Ebola has claimed more than 11,000 lives in the worst outbreak ever, nearly all of the fatalities occurring in the three neighbouring countries of Liberia, Sierra Leone and Guinea.
The World Health Organisation said in a report published on July 1 that 20 confirmed cases of Ebola were reported in the week to June 28, consistent with figures compiled over the past few weeks.