Tunisia: Bodies of UK victims flown back home
Comments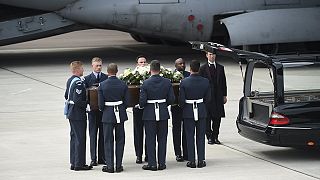 The bodies of eight victims of the Tunisia beach terror attack have landed in the UK.
As the plane landed a statement was released on behalf of Suzanne Richards for the Evans and Richards families saying: "we are a small and normal family, but nothing will ever be normal again."
According to the Tunisian health ministry all 38 victims had been formally identified, among them 30 Britons, three Irish citizens, two Germans one Belgian, one Portuguese and one Russian national.
Several arrests have been made of people suspected to have helped the gunman who was shot dead by police.
He is believed to have trained in Libya alongside the gunmen who attacked the Bardo Museum in Tunis in March.
Despite the country ramping up security, thousands of tourists have already returned home.