Lyon world climate summit looks to limit global warming
Comments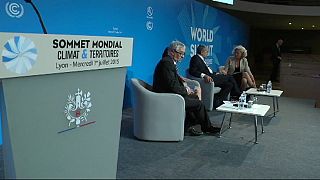 As heatwaves become more frequent and more intense, the French city of Lyon is hosting hundreds of elected officials from cities, regions and provinces. Their goal is to reduce greenhouse gases and limit global warming to 2 degrees Celsius.
The commitments and proposals made in Lyon will be presented the United Framework Convention on Climate Change.
Janos PASZTOR, UN Assistant Secretary-General for Climate Change, explained to euronews: "This summit is very important because a lot of things happen in big cities and in the regions. They can lead by example so that governments can decide on the best solutions. Also these are the cities that are the largest [CO2] emitters so the solutions must also come from big cities and regions."
Later this year France will host "Paris 2015" the 21st session of the global climate change summit known as COP.
Euronews correspondent Fabien Farge reported: "Six months ahead of the Paris meeting on climate change, here in Lyon the climate summit for regions and provinces is underway. It's holding events and workshops on topics such as deforestation, land solutions and global warming."
Meanwhile as much of Europe swelters in a heatwave, the United Nations is warning about the dangers posed by hot weather, especially to children and the elderly.
The World Health Organisation reminds people to drink plenty of water.