Dozens killed as Indonesian military plane crashes on houses in Sumatra
Comments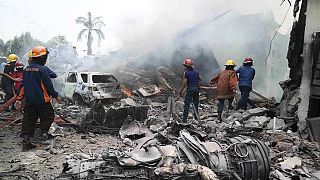 An Indonesian military transport plane has crashed into a residential area in Sumatra, killing dozens of people according to reports.
There was carnage as houses and a hotel were set on fire. Many of the casualties were on the ground.
The C-130 Hercules plane came down shortly after takeoff on the Sumatran city of Medan.
There is confusion over the number of victims – many of whom were on the ground – and indeed over the precise number of passengers.
The head of the air force has been quoted as saying 113 people were on board. Another military spokesman spoke of 62.
Earlier reports cited the military as saying 12 people were on the aircraft.
#BREAKING#IndonesianAirForce#C130 reg no. #A1310 crashed departing Medan Polonia otw Tanjung Pinang. pic.twitter.com/Yh0dB3HWV1

— Gerry Soejatman (@GerryS) 30 Juin 2015
The aircraft was on its way from an air force base in Medan to the remote Natuna islands and crashed a few minutes after takeoff, according to military spokesman Fuad Basya.
Local media reports said the pilot had asked to return because of technical problems.
The plane that crashed was over 50 years old, according to the military.
The crash has highlighted Indonesia's poor aviation safety record and its ageing fleet. According to the Aviation Safety Network there have been 10 fatal crashes involving military or police aircraft over the last decade.