Tunisia makes arrests in search for gunman accomplices
Comments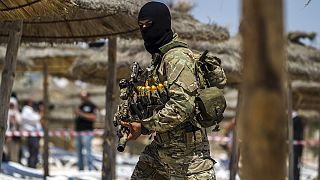 Tunisian authorities have made several arrests after Friday's massacre which left 38 people dead , mainly British tourists at the beach resort of Sousse.
Although only one attacker, its thought others may have supplied the weapons and logistical support.
Tunisian student Seifeddine Rezgui was himself shot dead after firering indiscriminately at sunbathers.
Tunisia is now to deploy 1,000 troops to protect its resorts.
Survivors recall the moments when gunfire started at Sousse hotel http://t.co/wIe6ZiBeMRpic.twitter.com/eBMbEpilJy

— The Independent (@Independent) June 29, 2015
Some of the injured are being returned home, several need medical assistance to make the journey.
It's thought there are German, Belgium and other nationalities among the among the fatalities The number of British victims is officially 18 but that is expected to rise to around 30 after identification is completed.
At Glasgow airport there was much relief as one returning survivor was met by her family.
"I feel bad for everybody else who's lost somebody but I'm so glad that I've got my daughter back.," said her mother.
Meanwhile outside Walsall football club in central England, fans paid their respects to three members of the same family – all Walsall supporters – who were among the victims of the shooting in Sousse.