UK to hold national minute's silence for Tunisia terror victims
Comments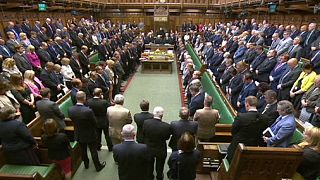 Britain will hold a national minute's silence on Friday for the victims of the attack in Tunisia, the majority of whom were British.
Prime Minister David Cameron told the UK parliament that ISIL must be tackled at home and abroad.
Britain is working with Tunisia on counter-terrorism measures but travel advice to British tourists remains unchanged for now.
The attack, he said, had brought one of the largest anti-terrorist deployments in a decade.
"Here in the UK the threat level remains severe, meaning a terrorist attack is highly likely. But until we've defeated this threat, we must resolve as a country to carry on living our lives alongside it."
The prime minister said that authorities must have the necessary tools to tackle ISIL: its methods he said were barbaric but its communications and propaganda machine were modern.
Cameron added that people needed to be "more intolerant of intolerance" in attacking the extremists' "perverted" ideology. Muslims who opposed ISIL needed support.
"This is not the war between Islam and the West which ISIL want people to believe. It is a generational struggle between a minority of extremists who want hatred to flourish, and the rest of us who want freedom to prosper – and together we will prevail."
Earlier in a newspaper article for Britain's Daily Telegraph, the prime minister called for a 'full-spectrum response' at home and abroad, working with other countries to combat ISIL's evil.
Britain is a nation united in shock and grief – but we will not be cowed. My article in today's Telegraph</a>: <a href="https://t.co/Hk5zE6xsZB">https://t.co/Hk5zE6xsZB</a></p>&mdash; David Cameron (David_Cameron) 29 Juin 2015
Britain has 50 staff in Sousse including police detectives working alongside the Tunisian authorities.
The RAF has been helping to bring home those injured in Friday's attack. David Cameron said all was being done to bring home those who lost their lives as quickly as possible.
Other victims of the attack included at least three Irish nationals, one Belgian, one German and several Tunisians. At least 36 were injured.
The number of British victims made the attack the worst single terrorist atrocity against Britons since the London bombings of July 2005, in which 52 people were killed.