Second escaped US prisoner is shot and captured by police
Comments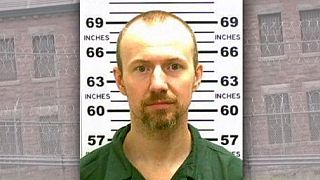 The second of two escaped US prisoners, David Sweat has been shot and captured by police.
He was taken 48-hours after his accomplice was killed.
Sweat was rushed to hospital where his condition is unknown. His capture ends a three week manhunt for Sweat and fellow inmate Richard Matt.
Sunday's drama unfolded in the town of Constable, New York state, some 37 km north of Duane where Matt was shot and killed by police on Friday. Both men had been serving time for murder in a New York prison.
More than 1300 police were involved in the search for the men who were both considered highly dangerous . The hunt had scoured a remote, heavily wooded area using tracker dogs and infrared devices.
Sweat had been serving a life sentence without parole in 2003 for killing a New York sheriff's deputy.
Matt was convicted in the 1997 torture, murder and dismemberment of his boss in New York.
The pair had escaped from the Clinton Correctional Facility in Dannemora using power tools to cut their way out of their cells, crawling along a steam pipe before emerging from a manhole outside the prison.
Two prison workers have been charged with aiding in their escape.Gene Palmer, a 57-year-old corrections officer, is accused of bringing hacksaw blades and a screwdriver bit to the inmates, hidden in frozen hamburger meat supplied by Joyce Mitchell, 51, a training supervisor in the prison tailor shop.