Egypt state prosecutor dies after Cairo bomb attack
Comments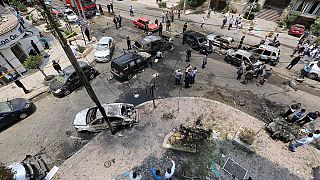 Egypt's public prosecutor Hisham Barakat has died following a bomb attack on his car in Cairo, according to the state news agency.
Officials said the device was detonated remotely as a convoy of vehicles left his home this morning.
Two civilians and two policemen were wounded.
Who carried out the attack has not been confirmed. A little known group calling itself the "Giza Popular Resistance" claimed responsibility in an entry on Facebook but then retracted it.
Judges and other officials have increasingly been targeted by Islamist militants opposed to President al-Sisi and apparently angered by sentences imposed on members of the outlawed Muslim Brotherhood.
Last month, Islamic State's Egypt affiliate urged followers to attack judges, opening a new front in an Islamist insurgency in the world's most populous Arab state. In the same month three judges were shot dead in the northern Sinai city of al-Arish.
As chief prosecutor, Barakat had overseen the detention of tens of thousands of government opponents, and the prosecutions he brought resulted in death sentences for hundreds of alleged Brotherhood supporters.