US: Supreme Court rules gay marriage is legal nationwide
Comments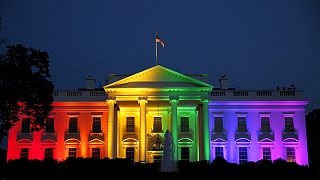 The White House went rainbow to mark an historic day for the gay rights movement in the United States.
The Supreme Court has ruled that same-sex marriage is a legal right across the country. The decision brings more than a decade of bitter legal battles to an end.
A proud day. pic.twitter.com/Iedos1hYTk

— Hillary Clinton (@HillaryClinton) June 27, 2015
In San Francisco, where campaigners have long led the way in the fight for gay rights, a flag was draped over City Hall moments after news of the decision came through.
Same-sex couples rushed to wed in several of the 14 states where marriage had been banned for them. Alexandra Hall and Angel Bovee, who are planning a ceremony in October, decided to get their marriage license on Friday in Denver: "I can just imagine people who are ten years-old who will never have to think about it." said Alexandra, tearfully.
Marriage equality…getting the license! pic.twitter.com/8zz3mZO2V2

— Angel Bovee (@AngelBovee) 26 Juin 2015
Not everyone has welcomed the decision. Presidential candidate Mike Huckabee spoke for the conservative lobby when he condemned tbe decision as "judicial tyranny."
We must resist and reject judicial tyranny, not retreat. http://t.co/mlzIBw4VoZ

— Gov. Mike Huckabee (@GovMikeHuckabee) 26 Juin 2015
A wave of legal rulings and a dramatic shift in public opinion have expanded gay marriage in the United States in recent times.
The legal tide has now turned completely.