Gay marriage and Europe's east-west divide
Comments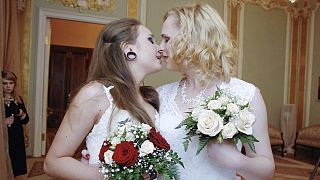 Ireland might be the first country in the world to approve same-sex marriage via a popular vote.
The Emerald Isle, predominately Catholic, is holding a referendum on Friday (May 22) to add a line in their constitution which would read:
"Marriage may be contracted in accordance with law by two persons without distinction as to their sex."
Another pro-gay marriage mural has appeared in Ireland: http://t.co/25i624YtbB#marriageequalitypic.twitter.com/a2jW2TECAw

— Dazed (@DazedMagazine) May 20, 2015
Current polls predict a vote in favour of the change.
The vote marks a pivotal moment in the country's history pitting politicians against the Church.
The Church has traditionally held huge sway over society in Ireland. Abortion remains illegal in most cases including in cases of rape, incest and fatal foetal abnormalities and contraception was only made available in 1985. It was only in 1993 that Ireland decriminalised homosexuality and divorce was legalised in 1995.
The clergy is urging voters to reject same-sex marriage while politicians argue the issue is a civil matter.
However, the issue is also dividing the Church, with many campaigning against the change, while others are in favour.
One clergyman ended his sermon in Dublin with the news that he was gay. Father Martin Dolan received a standing ovation when he made the announcement and urged people to vote for same-sex marriage in the upcoming referendum.
Europe's divide on gay marriage
The vote is also representative of a wider shift in Europe. Currently thirteen European countries allow or will allow gay marriage: France, Belgium, the Netherlands, Spain, Luxembourg, Portugal, Sweden, Norway, Finland (2017), Slovenia, Denmark, Iceland and the UK (with an exception). England, Scotland and Wales have approved same-sex marriage, while Northern Ireland recognises civil partnerships from other jurisdictions.
Looking at a breakdown of the countries which either allow same-sex marriages or civil unions what emerges is an east-west split.
The first country to allow same-sex marriage was the Netherlands in 2001 followed by neighbouring Belgium in 2003. Spain was next to approve it in 2005. The pace gathered from 2012 with six more countries signing gay marriage into law. However, any same-sex couples in Finland will have to wait until 2017 to tie the knot as further legislation must be approved.
Just Married
Luxembourg made the news this week with Prime Minister Xavier Bettel becoming the first EU leader to marry his partner. He became the second sitting Prime Minister to marry his husband while in office. The first was Johanna Sigurdardotti, Iceland's former PM, five years ago.
Life goals. | Luxembourg's Prime Minister marries his partner. http://t.co/IYOxnaIvBypic.twitter.com/iaGYEpqeQi

— Matt Di Toro (@matt_ditoro) May 15, 2015
Denmark were the trailblazers of civil unions, writing them into law in 1989, with their Scandinavian neighbours Sweden (1995) and Norway (1993) joining soon after. Many European countries which do not allow same-sex marriage so allow civil unions. While Austria, Germany and Switzerland are currently considering legislation to introduce same-sex marriage.
Countries in the east of Europe such as Poland, Bulgaria, Latvia, Lithuania, Slovakia and Hungary have constitutions which define marriage as between a man and a woman.
A look at public opinion polls also reveals an east-west divide – popular support for same-sex relationships is at 92 percent in the Netherlands, while this figure drops to just 25 percent in Russia (in a 2010 survey by Pew).
Rights and attitudes
The map of Europe's divide over same-sex marriage closely resembles that of the International Lesbian, Gay, Bisexual, Trans and Intersex Association's rainbow map (ILGA) of LGBT rights across the continent, with a few exceptions.
La ILGA Rainbow Map 2015 qui classe la situation des droits LGBT en Europe est disponible. La France gagne 1% à 65%. pic.twitter.com/CRJgKyjieE

— Benjamin Rosmini (@BRosmini) May 11, 2015
The 2015 annual review of LGBT rights show some countries making historic strides on equality issues, especially in the area of recognition for human rights of trans and intersex people. On the other hand, the report finds that other countries have seen LGBT rights decline, specifically Russia and former USSR countries. In 2013 Russia signed an LGBT law which makes distribution of 'propaganda' among minors of non-heterosexual relationships a criminal offence.
ILGA's report states that: "As Armenia, Belarus, Kazakhstan, and Russia signed the founding treaties of the Eurasian Economic Union, homophobic and transphobic language grew. This heightened rhetoric aimed to differentiate between East and West, positioning the Eurasian bloc as fiercely traditionalist when it came to family."
It appears that as countries decide to become closer allies with either Europe or Russia, LGBT rights are getting caught in the crossfire.
Saying Yes
As the gay marriage debate comes to a close in Ireland, Taoiseach Enda Kenny made a last minute appeal for people to vote 'Yes' to the change saying his country could make history by saying "yes to inclusion, yes to rights, yes to love and yes to equality, yes to equal marriage". He added it could obliterate barriers and prejudice.