Tunisia's tourism industry set to suffer in wake of deadly hotel attack
Comments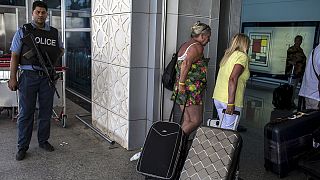 The killing of 39 people at a beach hotel in Tunisia could spell disaster for the country's already struggling economy.
Tunisia's tourism minister has described the attack in Sousse, claimed by the self-proclaimed Islamic State group, as a "catastrophe."
Authorities have vowed to tighten security, but that may not be enough to bring back the crowds of foreign holidaymakers anytime soon.
"The tourism sector in Tunisia has been killed, it's dead now. Our economy is very bad, how we are going to live?" asked one Tunisian in Sousse.
"We depend on the tourists, there are around four thousand people from Sousse working in this sector."
Tunisia's tourism industry was already reeling from the Bardo museum massacre in Tunis, which happened earlier this year. Gunmen killed 21 foreign visitors.
Euronews reporter Mohammed Shaikhibrahim, who is in Sousse, said: "This area is known as a jewel of the Tunisian coast. It's a favourite with tourists. But now the visitors have gone. All that is left here are traces of blood, left by the attack."