Swedish boat sets off to join flotilla aiming to break Israel's blockade of Gaza
Comments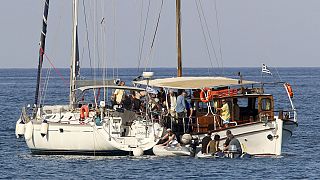 A Swedish boat has set off from the Greek island of Crete to try and break Israel's blockade of Gaza.
The "Marianne" is expected to join a flotilla of vessels, headed for the area.
Israel is trying to stop the boats from making their journey.
"As far as I understand, the Israeli government has decided not to let them go to Gaza. They will stop them far from Gaza," said Moav Vardi, an Israeli Channel 10 journalist.
"This flotilla might be perceived in Israel as helping the Hamas regime because the people in Israel don't have problems, I guess, as far as I understand. They don't have anything against the people in Gaza, the men, women and children in Gaza. They have a problem with Hamas."
Basel Ghattas, an MP with the Joint Arab List in the Israeli Knesset, was planning to take part in the flotilla. He is being stripped of his parliamentary immunity from prosecution as a result.
Former Tunisian President Moncef Marzouki was also expected to join the flotilla too.
In 2010, a similar mission ended in tragedy. Ten activists died after a botched Israeli commando raid.
Israel is adamant that its blockade is necessary for its security.