Pro-Palestinian activists prepare flotilla to break Gaza blockade
Comments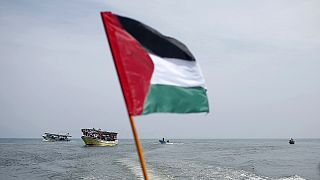 A group of pro-Palestinian activists describing themselves as politically independent are preparing to try and break the eight -year long Israeli blockade of Gaza.
The initiative which involves sailing a flotilla of boats carrying crews and provisions to Gaza has the support of several public figures including Arab Israeli politician Basel Ghattas.
"All the Israeli right wing parties have shown an aggressive attitude towards those of us who support the Freedom Flotilla 3 initiative which is putting the Gaza case and the people's suffering due to the blockade back at the top of the political agenda in Israel, and I hope that it will be the same case in Europe and around the world," said Ghattas.
The captain of one of the boats is adamant he wants no repeat of what happened during a previous attempt to breach the blockade. Back in 2010 Israeli Naval Forces killed ten pro-Palestinian activists and injured 28.
Charlie Andreasson who is from Sweden said all of those participating in the Flotilla have had non-violence training sessions:
"It is very important to use non violence resistance to give them no excuse to use violence against us. If they are going to use violence towards us or against us to stop us on international waters THEY are breaking the law not us."
A second international Flotilla was organised in 2011, only to be blocked by Israel which diverted the boats to ports in Greece and Turkey. Other attempts saw boats seized in international waters by the Israelis who then deported the crews..
Israel is aware a flotilla is being prepared and has condemned the mission.
Israeli envoy calls on UN chief to condemn Gaza-bound flotilla http://t.co/5ceux6sD90

— The Times of Israel (@TimesofIsrael) June 22, 2015
Reporting for euronews from a boat somewhere off a Greek Island, Aissa Boukanoun explained that secrecy was of the essence:
"Organizers are not saying when or from where Flotilla 3 will sail, they are worried that Israel will use pressure on European governments to stop the flotilla from sailing to Gaza. Israel believes the activists are prepared to provoke Israeli security forces to portray the country in a bad light.
On the other hand activists say the aim of flotilla 3 is to end the blockade on Gaza by peaceful means in order to allow freedom of trade and to help the Palestinian people."