Myanmar: constitution vote sees military retain powerful political role
Comments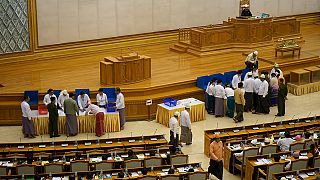 The armed forces' powerful political role remains in tact in Myanmar.
A move to amend the Asian country's constitution, to remove the military's legislative veto on key decisions, has fallen short of the required 75 percent support in parliament.
The result was no surprise, given that a quarter of the seats in the house are, by law, held by the military.
Another vote on a clause that effectively bars Nobel laureate Aung San Suu Kyi from becoming president also failed. The motion voted on would have only partially amended that article, however, meaning the 70-year-old democracy icon would still have been ineligible had it been passed.
Suu Kyi, whose National League for Democracy (NLD) won the last free election by a landslide in 1990 – a result ignored by the junta – cannot become president because her two children are British citizens, as was her late husband.