EU leaders agree migrant plan, while Greek debt deal remains elusive
Comments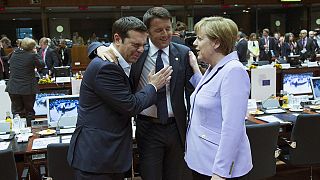 Tens of thousands of migrants who have arrived in Italy and Greece will be relocated to other EU states over the next two years.
That is the decision of EU leaders, who have been holding late night talks at a summit in Brussels.
But no agreement has been struck on a proposed quota system.
The Greek debt crisis also weighs heavy on the minds of those gathered in Belgium.
A week of marathon talks has failed to conjure up a deal.
Germany's Angela Merkel says a euro zone finance ministers meeting on Saturday will be "decisive" for breaking the deadlock.
"Time is running short. Everybody at the European Council agreed that everything must be done on Saturday to find a solution. There's a decisive importance," she said.
Greece has received two bailouts worth 240 billion euros since 2010. Without a deal at the weekend to unlock frozen aid, it is set to default on an upcoming IMF payment.
That could trigger a bank run and capital controls – possibly putting Greece on a path to exiting the euro zone.
Speaking from Brussels, euronews reporter Efi Koustakosta said: "The discussions about Greece lasted around two hours during the first day of the EU summit.
"According to EU sources, the leaders of Italy, Cyprus and Austria stood by the Greek government while others such as those from Finland, the Netherlands and Lithuania used tough words asking Greece to accept the institutions' proposal.
"Now the ball is in the Eurogroup's court, from which the leaders expect a final agreement."