Eurogroup again fails to reach agreement
Comments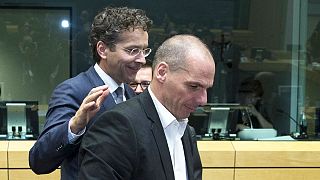 The latest Eurogroup meeting of finance ministers has yet again ended without an agreement on the Greek debt crisis. Thursday's (June 25) meeting was the third this week. Ministers had hoped to hammer out an agreement last night, to be presented at today's EU summit, but the meeting ended after less than two hours.
Greek Finance Minister Yanis Varoufakis said ministers at Thursday's meeting were presented with two proposals – one from Greece and one from its international creditors – the International Monetary Fund (IMF), European Central Bank (ECB) and European Commission.
"Interestingly, several colleagues disagreed and criticised not only our text but also the text of the institutions," Varoufakis told reporters after the meeting. "And we decided as a Eurogroup that we shall continue our deliberations. The institutions are going to look again at the two documents – our document and their own. There will be discussions with the Greek government and we continue until we find a solution."
Following today's failure, the Eurogroup will reconvene on Saturday. But time is running out – Greece needs to give the IMF 1.6 billion euro by Tuesday.