US and China: "positive differences" at annual talks
Comments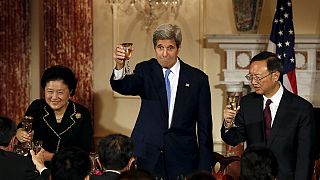 Hoping to improve cooperation, U.S. and Chinese officials have ended annual talks with gains on financial issues but barely papered over differences on cyber-spying.
The recent cyber attack on the U.S. Office of Personnel Management was widely believed by the Obama administration to have been instigated by Beijing.
US Secretary of State John Kerry carefully avoided naming names:
"We believe very strongly that the United States and China should be working together to develop and implement a shared understanding of appropriate state behaviour in cyberspace. And I'm pleased to say that China agreed that we must work together to complete a code of conduct regarding cyber activities."
Beijing's pursuit of territorial gains in the disputed South China Sea was just one of several areas of tension.
China's Vice Premier Wang Yang said his country, "reaffirms its principled positions on Taiwan, Tibet, maritime and cyber security and stresses the need for the US to respect and accommodate the interests and needs of China's and handle differences in sensitive issues with caution."
The high-level talks in Washington were a prelude to Chinese President Xi Jinping's upcoming visit to the US this autumn, with both sides gladly emphasising an area of cooperation – climate change.