Toyota and Nissan to recall more than 3 million more cars over airbag
Comments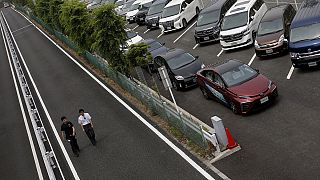 Toyota and Nissan said on Thursday they will recall more than three million more cars because of concerns over airbags involved in eight deaths worldwide.
"Toyota will now globally expand its recalls to involve approximately 2,860,000 additional vehicles equipped with certain front passenger airbag inflators," the car-maker said in an email.
Nissan said it would recall 198,000 units worldwide, while Mitsubishi also said it would call back 120,000 vehicles.
Airbags made by Japanese parts maker Takata have sparked a global recall crisis for many automakers.
Toyota alone says a total of 12.66 million units are now affected, but Honda – Japan's number three automaker – has been the hardest hit, with more than 19 million vehicles recalled globally.
Tokyo-based Takata last month agreed to double a US recall to a record of more than 30 million vehicles made by some of the world's biggest automakers.
The defect can cause airbags to deploy with explosive force, sending metal shrapnel hurtling toward drivers and passengers.