Stimulus package to boost MERS-hit South Korean economy
Comments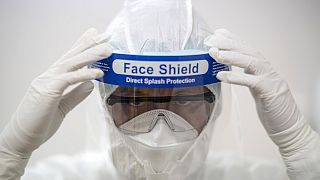 South Korea has announced a stimulus package to boost its sluggish economy which has been hit by an outbreak of the MERS virus.
Twelve billion euros (15 trillion won or $13.5 billion) is to be injected to offset reduced growth forecasts.
The finance ministry said it expected growth to be 3.1 percent in 2015, down from a projection of 3.8 percent last December.
The latest outbreak of the viral disease has hit consumer spending and the leisure and tourism industries.
More than 120,000 foreign tourists have cancelled trips to South Korea over the past month.
News of the stimulus package comes as the country's health ministry announced two more deaths from MERS – bringing the total to 29 in the latest outbreak – and one more confirmed case.
"As of June 25, among the 180 confirmed MERS patients, 74 have been cured and discharged from hospital. On that basis, the rate of patients discharged is a little over 40 percent," said Kwon Deok-cheol, South Korean Health and Welfare Assistant Minister.
Most people who have died have been elderly or have had existing illnesses.
The outbreak has been traced to a man in his sixties who returned from a trip to the Middle East in early May.
Earlier this month the World Health Organisation said in a statement that it did not consider the South Korean outbreak sufficiently serious to declare an international emergency.
MERS – or Middle East Respiratory Syndrome – first emerged in Saudi Arabia in 2012.