Rugby trying to make its mark in football-crazy Brazil
Comments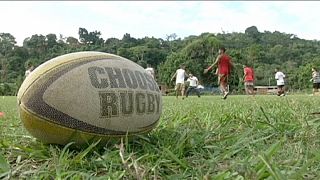 When it comes to sport in Brazil one's mind usually shoots to football – but in Rio de Janeiro's impoverished favelas another sport is trying to makes its mark.
Organised by the Anglo-Brazilian charity UmRio rugby is being taught to children as a tool for inclusion.
The project aims to teach disadvantaged children the sport's values – notably of teamwork.
Founder of the UmRio project Robert Malengreau said: ''The Children came (to the project) with a lot of habits from playing football, like trying to get the ball and make spaces on their own, not working as a team, like that player that wants to get hold of the ball on their end of the pitch and dribble it past everyone else towards the goal. They saw in a short space of time, two months perhaps, that this is not possible in rugby, teamwork comes before all else in rugby.''
As part of the drive, a rugby pitch for all to use has been opened on Rio's Copacabana beach this week.
And with Rugby sevens making its debut at next year's Rio Olympics the project is widely seen as a positive way to increase awareness of the sport in such a football-crazy nation.