Baku European Games: Day 12 Highlights
Comments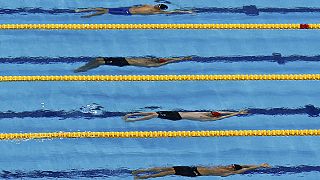 Great Britain's Luke Greenbank won his fourth medal of the Baku European Games on day twelve of competition by beating Russia's Filipp Shopin in the closing stages of the men's 100 metre backstroke final.
European and Youth Olympic champion Greenbank was the fastest qualifier for the final but was pipped to first place at the turn for 50 metres by Shopin who had the fastest reaction time of 0.56 seconds and touched at the halfway mark in 26.20 seconds.
Greenbank recovered well, however, and in the last ten metres of the race closed the deficit and pulled past Shopin just enough to win the gold medal in a time of 54.7 seconds while Shopin misjudged his final lunge toward the wall to finish 0.05 seconds later for the silver.
"The 200 metres (backstroke) is my preference and I was hoping to win a medal in that so I'm pretty pleased," Greenbank told reporters. "I've got the 200 metres tomorrow morning so, hopefully, I will do well as I've been swimming well all week."
"I was seeded second then first after the semifinals and that gave me confidence. But that race was very close, especially in the last 15 metres.
"We get a head of steam up. It happens quite a lot in a big competition. When your team is doing well you want to keep up the morale and win medals."
The battle for the bronze was just as intense, Germany's Marek Ulrich clocking a time of 55.35, only two hundreths of a second faster than Greenbank's team mate Joe Hulme, but quick enough to take the last podium position.
The other star of the night was Russia's Anton Chupkov who dominated the men's 200 metres breaststroke final to win by more than two bodylengths.
Chupkov started hesitantly and only touched in fourth at the first turn, although he had moved through the field to occupy first place by the halfway point at 100 metres, gradually building his lead so that with 75 metres remaining, Chupkov was too far ahead to be challenged for the title.
He finished in a time of two minutes 10.85 seconds, more than two seconds ahead of the silver medallist.
"I had exams but my preparation was good for this competition. I knew I would have to do both my studies and this training as well," said the studious Chepkov.
"My coach said, 'Everything you do, you will do the best'. If it wasn't for him I wouldn't be sitting here now with the gold medal.
"Now I'm looking forward to Kazan (FINA World championships). After Baku I'm going back home to Russia to prepare for that."
Russia's Kirill Mordashev also made his attack at the same time as team mate Chupkov to come second in a 2:12.94 as Great Britain's Luke Davies made a move on the last length to finish third in a 2:13.45.
Street Fight
Germany's Raphael Holzdeppel delivered as the pre-tournament favourite in the men's street athletics pole vault by setting a new personal best of 5.92 metres to win the event in Baku's old city.
The event was not an the European Games schedule as it was organised by the Azerbaijan Athletics Federation and the European Athletics Association rather than the Baku 2015 organising committee.
And though no medals were awarded, the pole vault went some way towards making amends for the low standard of athletics seen inside the Olympic stadium, the finals being conducted there only being represented on a third-tier level.
Holzdeppel encountered some trouble at the 5.82 metre mark despite earlier clearing the lesser heights with ease, and it was only once he managed to jump over that height that he was able to find his stride again, eventually winning after twice breaking his South American record.
His Brazilian rival Thiago Braz Da Silva also cleared 5.92 metres but lost to Holzdeppel on countback after both he and the German failed at the 6.02 metres mark.