Eurogroup meeting ends without Greece reforms agreement
Comments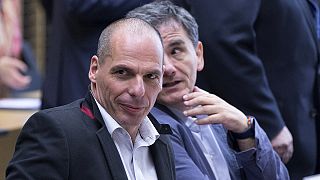 The latest Eurogroup meeting wrapped up in Brussels on Wednesday evening without a formal agreement between Greece and its creditors.
A spokesperson for eurozone finance ministers said negotiations would continue tomorrow lunchtime Central European Time.
However discussions were due to continue into the night between Greek Prime Minister Alexis Tsipras, IMF chief Christine Lagarde and and European Commission President Jean-Claude Juncker.
Pierre Moscovici, EU commissioner for finance told the media: "We will keep on working. The meeting was suspended but we will continue to try to find an agreement, it's still possible and – more than ever -necessary. We still want Greece to stay in the euro, in best conditions, with strong reforms and a sustainable future.".
The unwillingness of the bloc's officials to continue talks into the night suggests that there are still fundamental differences over Greece's bailout reform plans.
Earlier, Greek leaders hit out at the country's international creditors after they rejected the latest proposals.
Athens must repay 1.6 billion euros to the International Monetary Fund by the end of the month or face default and ejection from the eurozone.