Sailing: Bourgnon completes remarkable round-the-world challenge
Comments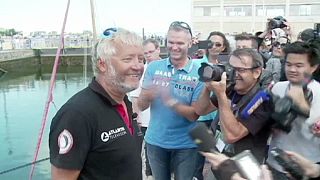 He started his grueling journey in October 2013, he capsized in the Atlantic, crashed his boat on rocks in Sri Lanka and experienced a terrifying near-miss with a cargo ship, but on Tuesday Yvan Bourgnon finally completed his round-the-world solo effort.
Making his journey even more impressive is the fact that the Swiss sailor circumnavigated the globe in a tiny 6.2 metre, cabin-less beach catamaran that had no GPS and computer-aided navigation.
Using the stars, a sextant and maps the adventurer took 20 months to complete his 50 000 kilometre challenge which included multiple stop overs for rest and repairs.
Hundreds of people lined the port of Ouistreham in Normandy to welcome the 43-year-old to his final destination – which deserved a traditional champagne celebration.