Coastguards rescue 3,700 Mediterranean migrants in two days
Comments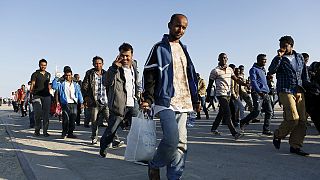 More than 3,700 migrants were rescued on Monday and Tuesday in the Mediterranean as part of the EU's coastguard operation.
On Monday 2,741 were plucked to safety from 18 overcrowded and unsafe vessels.
Six naval vessels rescued a further one thousand on Tuesday.
EU foreign ministers meeting in Luxembourg have launched an operation to combat the people trafficking networks behind the flow of migrants.
EU leaders will meet on Thursday and Friday in Brussels to discuss European Commission plans to distribute 40,000 Syrian and Eritrean refugees currently in Italy and Greece.
Leaders have agreed to triple funding for sea rescues off the coasts of Italy and Greece, but the 28-nation bloc is deeply divided on how to manage the migrants once they come ashore.
Hungary has said it will not respect EU rules obliging the countries where migrants originally entered the bloc to take responsibility for them.