Calais chaos as strikes close port and tunnel, while migrants attempt crossing
Comments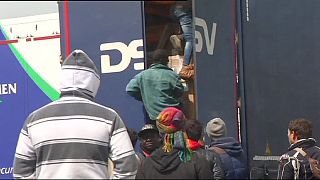 Desperate to cross the channel, migrants in Calais took their chances by attempting to stowaway on trucks caught in gridlocked traffic after strikes blockaded both the port and the eurotunnel.
Drivers were advised to padlock their doors and not to stop within 90km of the port.
Migrant numbers have swelled recently and an estimated 3,000 people are said to be living in makeshift camps waiting for the opportunity to cross the channel, a situation humanitarian organisations say is becoming untenable.
All Eurostar services have been suspended and trains returned to London and Paris after protesters gained access to the terminal during a strike by MyFerryLink workers over job cuts.
Some 600 workers face redundancy after Eurotunnel announced it was ending its partnership with the company.
The strike was due to end at 8pm local time and eurostar services are due to resume on Wednesday morning.
We apologize to those affected by today's Eurotunnel closure. No trains are running the rest of the day. Please follow Eurostar</a> for updates</p>&mdash; Eurostar UK (EurostarUK) June 23, 2015