Final appeal fails for Frenchman facing death sentence in Indonesia
Comments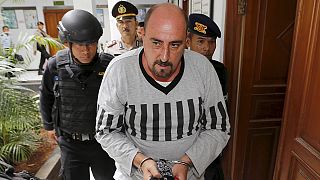 One of nine men accused of illegal drug manufacture in Indonesia, and facing the death penalty, Frenchman Serge Atlaoui has had his final appeal rejected by the court in Djakarta.
For ten years he has been in custody and his trial has been condemned by the French for several procedural errors. He is one of two Europeans involved. The other, Dutchman Nicholaas Garnick, died in prison.
The presumed leaders of the group, Indonesians, have been allowed to call experts and witnesses in their defence, a right not accorded to Atlaoui.
The 51-year old father-of-four maintains his innocence, and insists he came to Indonesia in 2005 to work as a welder. Investigators found a hidden ecstasy factory in the grounds of his place of employment.