Afghanistan security concerns after Taliban attack on parliament building
Comments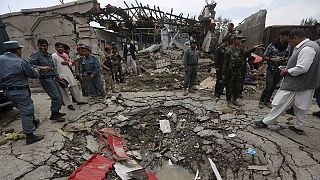 A clearing up operation is underway in Kabul after the Taliban attack in which it's reported a woman and child were killed and around 30 civilians wounded.
Authorities have launched an investigation on how a suicide bomber breached security to detonate a bomb close to the parliament building.
The explosion was captured on video as MP's were discussing business in the chamber.
Gunfire then crackled through the air as six gunmen located close to the building opened fire. All the MPs left the building safely. Several have criticised security agencies for not preventing the attack.
Police say the assailants were armed with assault rifles and rocket propelled grenades. The six were killed after a shoot out lasting two hours.
The Taliban claimed responsibility. "We have launched the attack on parliament as there was an important gathering to introduce the country's defence minister," said a spokesman for the insurgents.
The attack at the heart of the symbolic seat of power by the Taliban has added to questions about the NATO-trained Afghan security forces ability to cope.