US rocked by more shootings in wake of Charleston
Comments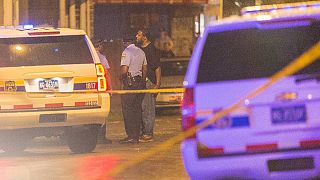 Amid renewed debate over gun crime and weapon ownership in America, there have been two more shootings.
In Detroit, one man was killed and nine other people wounded when a shooter opened fire at a neighbourhood party being held on a basketball court.
Authorities suspect the 20-year-old dead man was targeted, but investigations are continuing.
Meanwhile, in Philadelphia, seven people,including three children, have been wounded in a shooting at a picnic party.
US presidential hopeful Hillary Clinton has called for "commonsense" gun reforms in the wake of the Charleston church shootings.
Legislation that would have expanded checks on firearms sales was rejected by Congress two years ago, after the Sandy Hook school killings.