Charleston church massacre: racist manifesto turns up online
Comments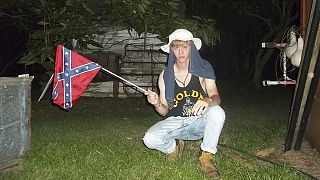 Photos and a manifesto surfaced online on Saturday allegedly belonging to the suspect in the Charleston church massacre.
A website showed Dylann Roof posing with handguns, carrying the Confederate flag while burning the American flag in another shot.
The 21-year-old has been charged with murdering nine black worshipers at a city church on Wednesday.
On the site, the author gives his reasons for taking some unspecified action saying: "I have no choice…I chose Charleston because it is the most historic city in my state, and at one time had the highest ratio of blacks to Whites in the country."
In South Carolina's state capital Columbia, hundreds of people protested against the flying of the Confederate flag at state buildings, for many a symbol of hate dating back to the US civil war.
President Obama earlier called for the emblem to be relegated to museums.
Mourners continued to file past the Emanuel African Methodist Church where the shootings took place,due to reopen for worship on Sunday.
The first service is expected to full as local residents turn out to pay their respects with flowers and placards.
#CharlestonShooting suspect manifesto details racist worldview: http://t.co/V72ZNfZ2xxpic.twitter.com/QYsQdvNoLG

— The Hill (@thehill) June 21, 2015