UNHCR: Angelina Jolie visits Turkey on World Refugee Day
Comments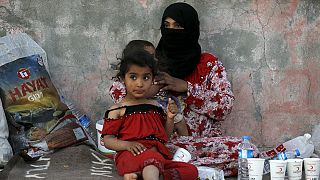 UNHCR Special Envoy Angelina Jolie has spent World Refugee Day 2015 visiting the country with the highest number of refugees in the world.
It is the latest in a string of visits that the Hollywood star has made to Turkey.
Nearly 1.6 million people have sought refuge in Turkey, according to UN figures. Last year, an estimated 5.5 million were uprooted worldwide.
Jolie was joined by the High Commissioner for Refugees, António Guterres at the camp in the south-eastern province of Mardin.
Turkey is now the world's biggest refugee-receiving country – see this new refugees</a> video on <a href="https://twitter.com/hashtag/WorldRefugeeDay?src=hash">#WorldRefugeeDay</a> <a href="https://t.co/neOEKZnntj">https://t.co/neOEKZnntj</a></p>&mdash; United Nations (UN) June 20, 2015
Guterres told reporters that Turkey has a generous attitude towards refugees, one he would like to see adopted by more countries: "Large parts of the world are today a mess. We see in relation to measuring conflict the Security Council (of the United Nations) paralyzed. And in the absence of a global governing system or of clear power relations, impunity and unpredictability became the name of the game. Anyone can start a conflict anywhere without any risk of accountability".
"It is due time for people to respect the plight of refugees and to see their value," added Jolie. "We must protect them and invest in them. They are not a problem, they are a part of a solution to this global crisis. They are the potential for the rebuilding and the re-stabilisation of countries"
Refugees' events, from around the world, to mark #WorldRefugeeDay 2015. https://t.co/ovM0k8lO80pic.twitter.com/XWltQmNQIt

— UN Refugee Agency (@Refugees) June 20, 2015