Italy: stranded migrants mark Ramadan on the rocks
Comments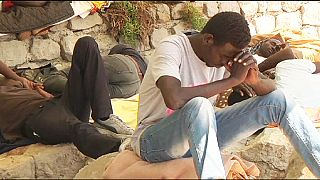 Migrants trapped in Italy are marking the holy month of Ramadan on the rocks.
Turned back from the French border, dozens of people – mainly Eritreans – have been left stranded along the coast, in the town of Ventimiglia next to the French border.
The long hot days in the open air make the dawn to sunset Islamic fast a struggle.
"In our country, it's very, very difficult, even eating. I'm trying to call my family in this Ramadan and in this Ramadan also we invite our God to change this bad situation to better," said one man.
Migrants are flooding into Italy, attempting to use it as a transit point to reach other European destinations.
But France and Austria have stepped up border controls in a bid to stem the flow. They have turned back hundreds, with Paris arguing that – under EU laws – the migrants are Italy's responsibility.
The Red Cross says the majority of those in Ventimiglia are Muslim, with around 80 percent observing Ramadan.