NATO's latest military exercises sends clear message to Russia
Comments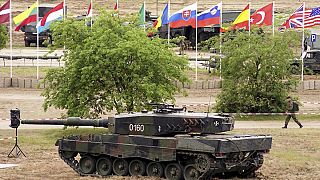 Amid a growing unease in eastern Europe over Russia's hostile actions in eastern Ukraine, NATO began joint military exercises in the region on Thursday named Spearhead.
More than 2,000 soldiers from nine countries took part in the drills in western Poland backed up by US fighter jets, transport helicopters and Polish tanks.
At the top of European leaders' minds as they were given a 90 minute demonstration by soldiers was the Kremlin's backing of separatists in Eastern Ukraine, which Moscow denies.
After watching the drills with NATO chief Jens Stoltenberg, Poland's Defence Minister Tomasz Siemoniak said: "Russia must not be judged by its words, but by its actions and these actions over the past year-and-a-half have not left us optimistic. The annexation of Crimea and (Russia's) activity in eastern Ukraine has left eastern European nations feeling apprehensive."
The first Spearhead drills came two days after President Vladimir Putin ordered 40 new intercontinental ballistic missiles to boost Russia's nuclear arsenal.
Moscow has hit out at a US plan to station tanks and heavy weapons close to Russia's border, labelling it the most aggressive act by Washington since the Cold War.
Russia staged its own air force military drills near its border with Ukraine on Wednesday. Military officials ordered pilots to carry out training in advanced flight maneuvers.