Greece seeks 'honourable compromise' but will not shirk the big 'no'
Comments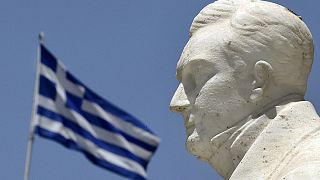 Greek Prime Minister Alexis Tsipras has made it clear that the government wants to reach an "honourable compromise" to solve the debt crisis.
He was speaking at a joint news conference with Austrian Chancellor Werner Faymann, who had travelled to Athens in a bid to end the stand-off between Greece and its creditors.
Speaking to the media Tsipras said:"If an honourable compromise can be reached, myself and my ministers, the whole Greek government will apply the deal and make it happen. If we don't find an honourable compromise and a viable financial solution, the Greek government will take responsibility and say the big 'no' to a destructive policy for Greece."
PM Tsipras LIVE: "Miracle" that public finances still functional without any money from bailout funds #Greecepic.twitter.com/rgVVIbVBgq

— Derek Gatopoulos (@dgatopoulos) June 16, 2015
As the blame game continues Greek banks are creaking under the sheer weight of cash withdrawals, it is estimated that €30bn have been taken out of the system between October and April.
On the streets of Athens the talk is of little else:"Everyone is worried about their deposits, it isn't personal, listen to the government, this is a national problem," said one
This month Greece must repay €6.73bn, in July €5.95bn and in August €4.38bn.