Greeks fear outcome of latest debt talks
Comments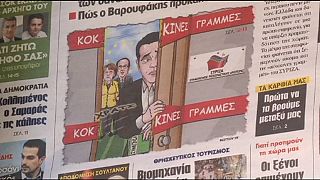 In Greece, talk of crossing red lines filled one newspaper's front page on Saturday as last-ditch talks continue to secure additional debt relief and avoid a possible Grexit.
Prime Minister Alexis Tsipras had previously described the red lines that wouldn't be crossed in negotiations with the country's lenders. But on Saturday he appeared to back down, warning Greeks to prepare for a "difficult compromise".
Negotiators are in Brussels delivering a new round of reform proposals to stop the country being forced out of the euro.
Many shoppers at a farmers' market in Athens on Saturday were worried about the outcome of the latest talks with creditors.
One unemployed resident, Kostas Spyropoulos, said: "They'll adopt such harsh measures that we'll all suffer. It'll be hardest for our children. There's nothing we can do. We don't trust anyone, neither (former PM)Samaras nor Tsipras."
Farmer Evaggelos Katopodis described the difficulties many traders face: "I have been working here for 40 years, I've never known such a crisis before. We used to sell tons of stuff and now we can't even sell a box of produce because people don't have money."
Another Athens resident, Vicky Sachinidou, thinks the Greek people need to make a choice: "Saying that we want to remain in the euro zone but that we don't want new austerity measures is absurd. We have to make up our minds."
Agreement on further reforms are essential to unlock the last 7.2 billion euros of bailout funds from the EU and IMF.
Talks are expected to continue for several days ahead of a deadline at the end of the month.