Syrian-Kurdish fighters seize control of Tal Abyad from ISIL
Comments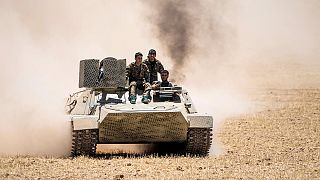 Syrian-Kurdish fighters say they have driven ISIL militants out of the northern border town of Tal Abyad.
The Syrian Observatory for Human Rights confirmed that the YPG – the main Kurdish fighting force – and part of the Free Syrian Army had seized control of the town.
Kurdish media agency Anha released a video purporting to show YPG members raising a Kurdish flag over the municipality.
Tal Abyad provides a key supply line to Raqqa, ISIL's self-proclaimed capital in Syria, which lies around a hundred kilometres to the south.
The YPG says it is sending help to secure the route.
Several ISIL members reportedly fled to Turkey where, local media reports, at least five have since been arrested.
Turkish authorities had earlier opened the nearest border with Tal Abyad to allow hundreds of refugees to escape the fighting as the Kurds closed in.