Lithuania confirms plans to host US heavy weaponry
Comments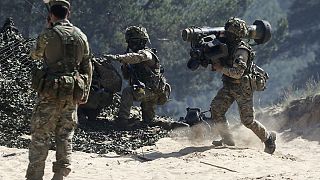 Lithuania has thrown itself into the mix of Baltic states and eastern European nations expected to station US heavy weaponry in the near future.
All this is a very positive thing for our country and our people's security.
Prime Minister Algirdas Butkevičius confirmed his country is in talks with Washington and is readying itself to temporarily host the equipment while plans are made for a more permanent location for the arms.
"I would say that our region is at the highest risk," he said. "So I think that attention by NATO and its highest management, including not only words, but actions and plans for the near future, all this is a very positive thing for our country and our people's security."
Several hundred US troops are on rotation in Lithuania and have participated in a number of NATO military exercises in the country this year.
The news comes on the back of a New York Times report claiming the US is planning to transfer heavy military equipment to several countries in the region including Estonia, Latvia, Poland, Romania, Bulgaria and possibly Hungary.
Russian intervention in Ukraine has sparked growing unease among neighbouring countries. Moscow has yet to comment on the alleged proposals for US weaponry, while the Pentagon says no decision has yet been taken.
However reports suggest that, if approved, the plans will be put into action before NATO defence ministers meet in Brussels on June 24, 2015.