Jeb Bush vows to 'fix' Washington as he launches US presidential bid
Comments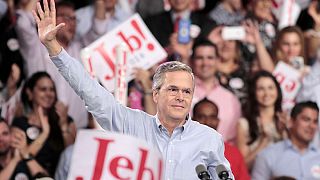 Former Florida governor Jeb Bush has launched his US presidential bid, vowing to fix a dysfunctional Washington.
The 62-year-old is looking to secure the Republican nomination to run in next year's election.
Bush's father and brother are both former presidents and left office with low approval ratings.
Jeb is seeking to be seen as his own man and a man with a can-do spirit.
"We don't need another president who merely holds the top spot among the pampered elites of Washington," he told supporters in Miami.
"We need a president willing to challenge and disrupt the whole culture in our nation's capitol."
If he gets through, Jeb Bush would probably go up against Hillary Clinton. She is the front-runner for the Democratic nomination.
But it is still too early to tell who will ultimately enter the presidential race.
Bush could face compeition from more than a dozen other Republican candidates, all seeking the coveted nomination.