Mike Huckabee to seek Republican presidential nomination
Comments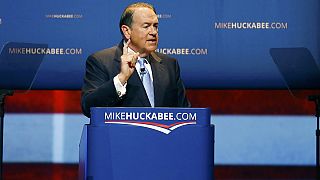 Another US Republican has launched his bid for the party's 2016 presidential nomination. This time it's Mike Huckabee.
The former Arkansas governor and former Fox News TV host has highlighted the plight of blue-collar American workers who have been left behind in the country's rebound from the Great Recession.
The 59-year-old is considered a long shot to win the Republican nomination. He's the six candidate to throw his hat into the ring… more are expected.
In addition to Huckabee, Ted Cruz, Senators Rand Paul, Marco Rubio and former Hewlett-Packard CEO Carly Fiorina and retired neurosurgeon Ben Carson are also standing.